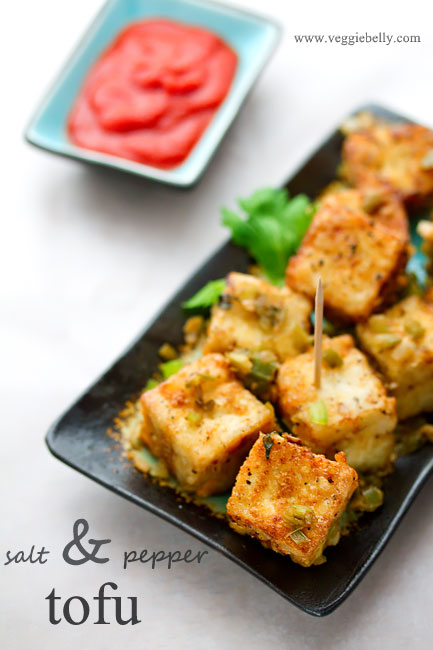 This vegan salt and pepper tofu recipe is a great dish to entertain with. I either serve it as an appetizer with tooth picks, or I serve it as an entree with some brown rice. All the components of this recipe can bemade ahead and put together just before serving. This is a truly fancy, delicious, vegan, Chinese dish and it tastes like something you'd get at a restaurant.
To clean leeks, soak sliced leeks in water for a few minutes. The grit will settle to the bottom. Then scoop up the leeks floating on top and rinse under water.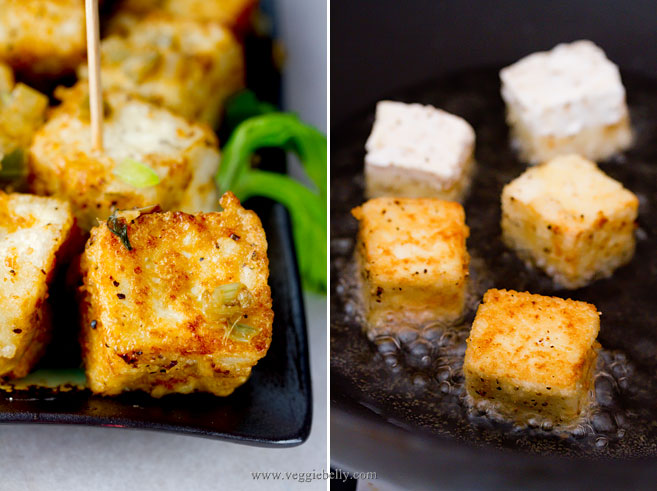 Once you fry the tofu, toss it in sauteed leeks, celery, ginger, garlic and green pepper.
For a quick appetizer, skip the sauteeing just served the fried tofu with chili sauce like below. Toss tofu cubes in corn starch, salt and pepper. Fry till golden.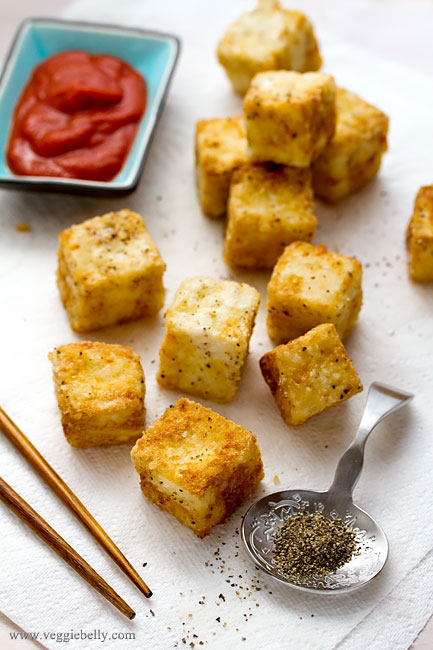 Notes:
- you can use this same method and recipe with button mushrooms, parboiled cubed potato, baby corn or paneer. The only change you will make is to make a batter out of the cornstarch and dip the vegetables or paneer in the cornstarch batter before frying. Tofu doesn't need a batter because it has a lot of moisture already, so simply tossing it in cornstarch is enough
- fry one piece of tofu first and taste it. Adjust the salt the pepper in the batch if needed and then continue frying the rest
- fry only a few pieces of tofu at a time. If you crowd the skillet, tofu wont crisp up
- if the oil temperature is too low, the tofu wont crisp up, instead it will get soggy with oil
- substitute leeks with 1/2 cup chopped onions
- you can make the leek, celery, bell pepper sauté a day ahead
- the tofu can be fried about an hour ahead of time and placed in your oven in the lowest temperature. simply toss the tofu in the sauté in the last minute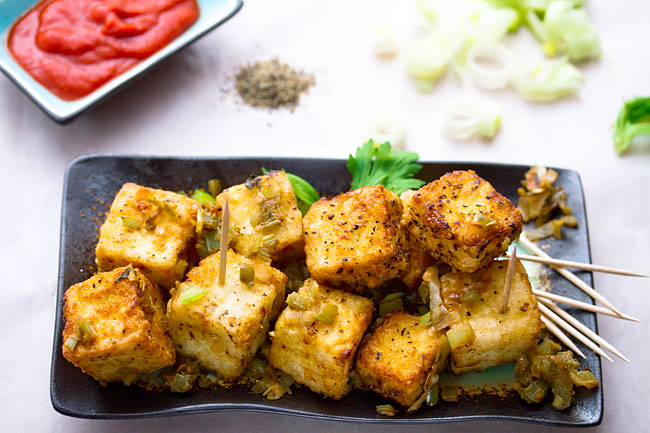 Vegan Chinese Salt and Pepper Tofu
serves 2 as an entree or about 4 as an appetizer
for the sauté
1/2 tablespoon oil
2 medium leeks, white part only, washed and grit removed (1 cup when chopped)
1 celery rib (1/2 cup when chopped)
1 small green pepper (1/2 cup when chopped)
1 tablespoon finely minced garlic
1 tablespoon finely minced ginger
1 tablespoon light soy sauce
1/2 teaspoon brown sugar
for the tofu
1 block (14 oz when drained) extra firm tofu
4 tablespoons corn starch
1/2 teaspoon or to taste freshly cracked black pepper
Salt
Vegetable or canola oil for frying
Chop the leeks, celery and green pepper into a fine dice. Heat oil in a wok on medium-high heat. Add chopped leeks, celery, and green pepper. Sauté on high heat for about 2 minutes. Add ginger and garlic. Cook another 1-2 minutes. Add soy sauce and brown sugar and cook 30 seconds. Set this mixture aside.
Pat dry the drained tofu. Cut into 1 inch cubes. Place the tofu cubes in a large bowl. Add corn starch, salt and pepper. Gently toss till the tofu pieces are very well coated.
In a skillet, pour oil so that it comes up 1/2 inch. Heat the oil.Make sure oil is hot. Add tofu cubes a few at a time. If you fry too many in one go they won't crisp up. Fry the tofu pieces, flipping them around, so that all sides are golden brown. Drain onto a few layers of paper towels.
Heat up the sautéed leeks, celery and bell pepper. Add the fried tofu cubes to this. Toss well. Serve vegan Chinese salt and pepper tofu with your favorite chili sauce and garnish with celery leaves or green onions.